Well, it was a hell of a week. One of the best trips ever! Here's some photos of what we did, besides pose for pictures: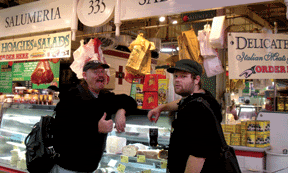 This is me and Jacob Goddard, one of my readers and banished Bendis boarder. We hooked up with Jacob during our 8-hour stop in Philadelphia and Jacob was our tour guide of the city. He even got me my very own Philly cheesesteak! Unfortunately, I could only manage one bite of it, since we'd just had lunch and it was a tasty bite.
This was the view of Paris from our room at the Marriott Hotel! Pretty snazzy, eh..? You should have seen it in the evening, the whole city is lit up. The only downside to this hotel..? For a wireless connection, they charged us 124 EUROS per week... and... get this... PER LAPTOP. It was a ridiculous price and we had to share a laptop, which, if you know me, can be a stressful experience.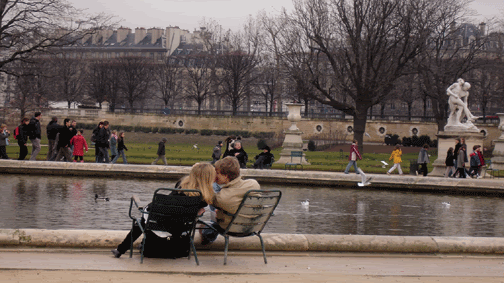 Everyone in Paris is a sex fiend. I've witnessed it, folks. They make out everywhere... in the park, at the museum and, most popular... the Metro train. Perverts... all of 'em. God bless 'em all.
Lily's drug of choice was the tasty crepes. And this was one of her many pushers, eager to feed her habit. This dude was cranking crepes out like a freakin' piston.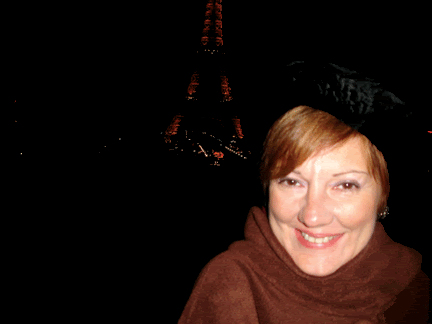 Here we are on a nighttime cruise on the Seine River. What an incredible night.
We called this shot "The Loneliest Goalie." Everyone was kicking the ball and laughing while this poor kid sat on his ass, waiting for the ball to come to his end. Sad, yet funny.
Across the street from the Moulin Rouge amongst the sea of strip joints and porno shops. Took me back to Broadway in San Francisco during the 80's. We also took in the Erotic Museum and saw porn through the ages. Mankind has been sexually warped forEVAH, folks. What a relief to discover!