This is the cover of my self-published issue of TRUE STORY, SWEAR TO GOD #17. It was the final issue of my run before I took the title to Image Comics.
Have you read it..? Did you like it..? Good. Because you're the person this is aimed at.
Artist Josh Medors is fighting a rare form of cancer in his back, and The Hero Initiative, the first-ever federally chartered not-for-profit corporation dedicated strictly to helping comic book creators in need, is aiding in that fight.
Hero is currently running three eBay auctions with net proceeds benefiting Josh, the artist of Frank Frazetta's Swamp Demon. One of them is one of my sketchbooks I use when I write TSSTG. This is the sketchbook from issue #17. There are over 60 pages of fully-rendered pencils and it represents months of work. If you've always wanted to know how I write this book, this is a great item to bid on. I don't do scripts when I work on my book. I go right to thumbnails in my sketchbooks.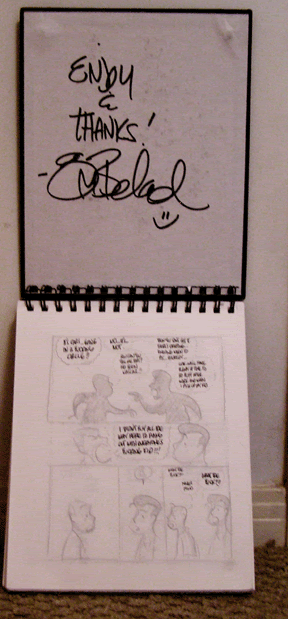 And here's the final art of the above page. From the sketchbook, you can see what I've changed for the final product and see the creative process. I treasure these books and I'd never let this one go, except it's for such a great cause.
And here's where you come in.
I want you to bid the fuck out of this item. I want you to bid often and win this item. I don't want to see a small amount for the winning bid. I want dollars. I want bucks so big, it's do the good that needs to get done.
I'm not taking a cent. Not a fucking penny. It's all for Josh.
It's cancer. On his back.
If that thought doesn't get you off your ass and bid some cabbage, I don't know what would... and I'd be afraid to ask.
I've lost a mother and father to cancer. I hate this shit. I couldn't do something for them then... but I can do something now.
And so can you.
I don't want to hear anything about how you need money for next week's comics. Bullfuckingshit. While you're looking forward to next week's comics, Josh is simply looking for the next week. Imagine that.
I'm serious on this. If you have the money to donate... and have a computer... and don't feel like being a part of something that will make you feel great and help someone in the process.... do me a favor.
Don't buy my books anymore.
Really.
Because the whole point of the TSSTG series is realizing dreams. Be it a dream of love. Or a dream of living somewhere new and different. Or the dream of helping your fellow human.
And if I haven't influenced you in twenty-eight issues... I never will. And I don't have the time in my life to deal with someone who wouldn't do what I would in this situation.
If you do... I'll be forever proud to call you a fan. I want this to be spectacular, amazing and sensational. I want Josh to see what you folks are going to give him and I want him to say "No. Fucking. Way."
Do it. Make me proud.
These auctions can be found at:
http://search.ebay.com/_W0QQsassZheroinitiative
And further auctions benefiting Josh can be found by searching "Josh Medors benefit auction."
In addition to these auctions, The Hero Initiative will be taking additional measures to help Josh in his convalescence.
"Having an organization like the Hero initiative is a blessing," said Josh Medors. "Even when things are going great, trying to make it as a freelance comic illustrator can be tough. The support the comics community has shown has been amazing. Now having the Hero initiative involved has made it possible for me to focus on what is important, getting better. They are a wonderful, caring organization, and their help has given me a hope and made it possible for me to focus on something I love very much—creating comics."