FANTASTIC FOUR: ISLA DE LA MUERTA, that lil' book I worked on with Juan Doe and Alejandro Arbona (below with me in the photo)..? Turns out it did pretty damned well, sales-wise. Better numbers than I've had in my career.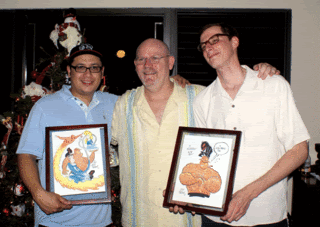 Here's what the numbers were:
• The issue ranked 110 on the Diamond Comics Top 300 chart. Just missed the top 100!
• Total sales were 20,780
mmmMMMMmmmm... that many people enjoying something that fun should revisited. Don't you agree..? ;)
Not only that, but I had ANOTHER Marvel book in December that did pretty well! SPIDER-MAN: FAMILY #6, which I shared with the embarrassingly-talented Chris Eliopoulos came in at #179, with 9,404 sold!
THANKS TO EVERYONE WHO SUPPORTED THESE PROJECTS!