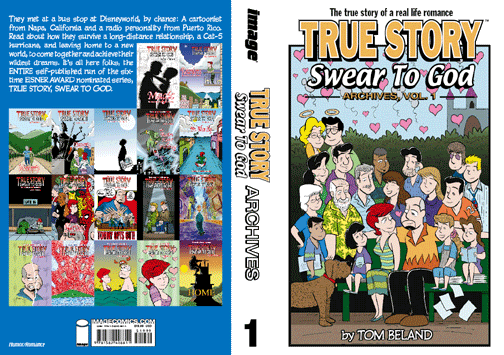 It started back in 1997 as a comic strip in the local newspaper. Then it morphed into a 17-issue comic book series that I self-published under CLIB'S BOY COMICS. Now the series is with Image Comics.
In all, I've been doing this comic for ten years. I'm still amazed that I've made all those books. I never thought I had it in me.
Well, this Thursday, you can read every issue of my self-published run. The TRUE STORY, SWEAR TO GOD archives collects all seventeen issues of that run in one book.
It's a fucking huge book. Every issue. How I met Lily at that bus stop in Disneyworld. Visiting Napa and Puerto Rico. The cat-5 hurricane that swept the island. Comics shops in Berkeley. The decision to move. The Vieques incident and the joys of making comics and attending Wonder-Con!
I truly hope you have as much fun reading our story as we had living it.
And yep, it's all true... swear to God.